Cville Songwriter Open Mic Night @ Chisholm Vineyards at Adventure Farm
June 24, 2018 @ 7:00 pm

-

9:00 pm

Free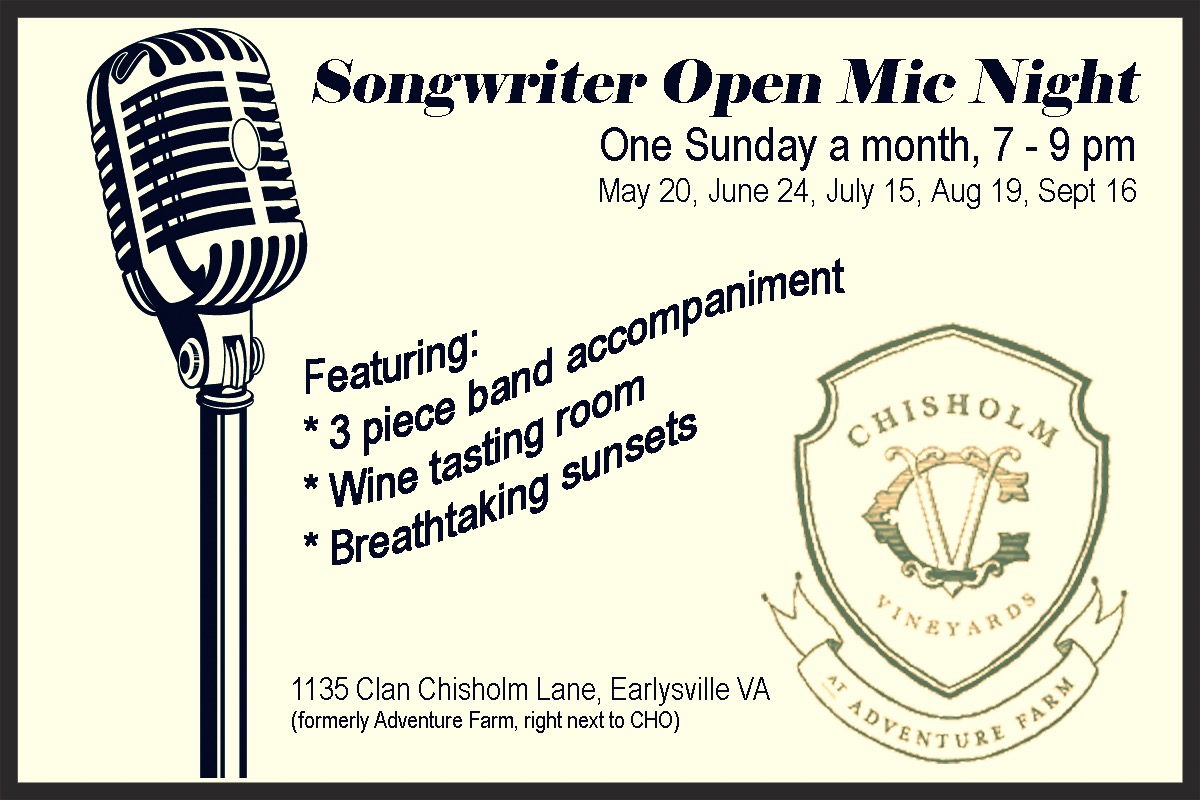 Following the successful model held every Monday night at the Local in the Belmont neighborhood of Charlottesville, the Cville Songwriter Open Mic Night takes its act on the road… just UP the road to Chisholm Vineyards (formerly Adventure Farm), right next to CHO airport in Earlysville.
It's the same format as the Monday night series:  A three piece band is in place to back up the participants who bring original songs.  Chisholm Vineyards is a gorgeous venue, complete with a wine tasting room, a spacious covered outdoor performance and seating area – plus one of the prettiest sunsets over the Blue Ridge in the county.  The night will run earlier, as well, 7 – 9pm.  This night will occur the third Sunday of every month from May to September (except for June, which is on the last Sunday).
Wanna signup?  Just send your name to jfishmusic@hotmail.com, and type the date in the subject line.
Here's the ground rules/suggestions:
1) Participants can perform 1-2 songs each (depending on the signup list size) with or without band accompaniment.
2) Songs must be originals.  NO COVERS.
3) Charts are not required but appreciated (please write/type BIG with dark legible letters where the chords are concerned)
4) Participants have one vocal mic, and one 1/4″ instrument line to work with.  Most perform on electric/acoustic guitars.  Without a cable input into your instrument, we will not be able to amplify your instrument.
5) Please have your own tuner, and tune instrument when you are notified as being "on deck".
6) No excessive instrumental jamminess, please, in deference to those who are waiting for their turn.