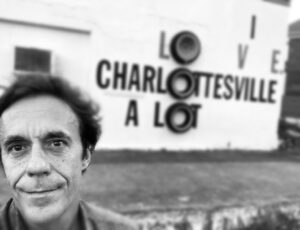 I moved from Northern Virginia to Charlottesville VA in 2008, putting down new musical roots.  With the Eddie from Ohio machine slowing down, I started getting involved with some other musicians.
Early on, I was introduced to Jason Pollock (formerly of Seven Mary Three) and had the great pleasure of jumping into his band, The Pollocks, with local gigs and a handful of recordings.  Additionally, my neighbor Ned Oldham (brother of Will Oldham, aka Bonnie Prince Billy) pulled me into his project, Old Calf, along with fellow 'hoodsman, Matty Metcalfe.  Though a rare live act, the one and only Old Calf album, Borrow a Horse, gave me the first-ever opportunity to record for an actual label, No Quarter, recorded entirely at the nearby, though remote, Dave Matthews studio, Haunted Hollow.
Matty graciously invited me into two of his Creole-flavored groups: guitar with Jolie Fille (Cajun punk!) and bass with Crewe de Bayou (Nawlins RnB).  I've had the great honor of holding down the low end for The Gladstones, which includes the two godfathers of Cville's bar band scene, Charlie Pastorfield (Skip Castro) & Bob Girard (The Casuals).  I've thrown bass behind my on again/off again housemate Ellis Paul, as well as for a lengthy list of other singer-songwriters (performing and recording).
One of my biggest turning points has been the acquisition of my first upright bass from Fretwells in Staunton VA.  I'm finally able to hop into picking jams as well as bluegrass gigs, most notably with Gallatin Canyon, who circulate some of the area's finest players in 'grass.  The upright world has also opened the door to a few traditional Country Swing and Honky Tonk bands, like The Get Rights and The Deputies.
Since 2016, I've teamed up on bass with husband-wife friends Andrew Green (Roosevelt Dime) & Susannah Hornsby (Red Rooster) who play guitar & accordion, respectively, to form Susie & The Pistols.  The ever-reliable Paul Rosner joins us on drums.  I've coined the term "Cajun-Tonk" to describe this act, and I'm stickin' with it.
Another infrequent project I jump into from time to time:  The Gooey Gumdrops (Charlottesville, maybe the world's, only all male tribute band to girl groups of the early sixties).  Fronted by Davey Kulund, with ole Matty on guitar & Justin Storer on drums – It's as fun as it sounds.
Finally, and most recently, there's CLEIDSNER, with my longtime sidekicks, Rusty Speidel on guitar and Paul Rosner on drums.  When we can, we beef up the act with the great Paul Bell (Nighthawks) on lead guitar under the name CLEIDSNER BELL.  This is an act not to miss!
I just love my new home in Central Virginia.  Come visit!  You'll find me most Mondays at The Local in the Belmont neighborhood hosting the Cville Songwriter Night, an open mic for original music with band accompaniment.  Other times, you'll find me jogging through the downtown streets, dodging cars & dogs, while waving to friends & buskers.