Michael Clem with Rusty Speidel @ Jammin Java **EP RELEASE**
January 9, 2021 @ 7:30 pm

-

9:30 pm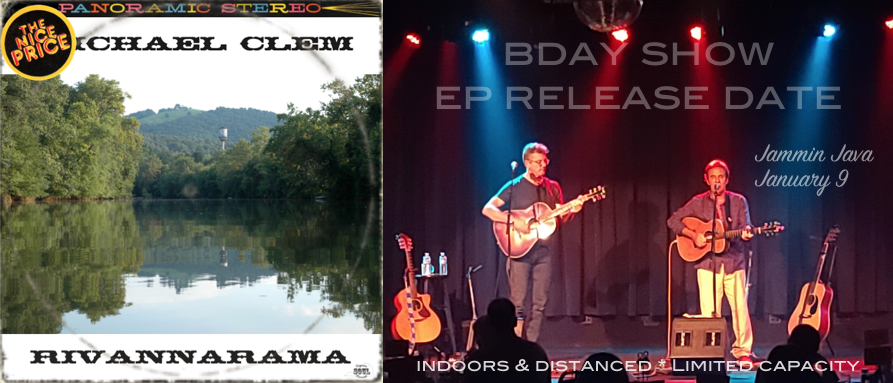 INDOORS & DISTANCED is how it's being billed.
Keeping with the annual tradition, I'm coming back for the annual birthday show.  However, in the wake of COVID, and in the interest of safety, we're cutting the capacity by half, as well as the band by a little more than half.  Please join us for an intimate evening of acoustic guitars, harmonies, and a whole mess of tunes penned during the pandemic.
ALSO, this will be an EP RELEASE DATE.  Behold – Rivannarama, a five song EP I've made over the past couple months with Rusty Speidel at the production helm-  Home recording at its finest.  Here are just a handful of tunes I've penned during the shutdown.  ONE FREE COPY on CD will be handed to each in attendance.  Additional copies may be purchased at the show as well.  The online release for the EP will be January 12, when you will be able to secure your streams/downloads from your normal go-to sources, Spotify, iTunes, Amazon, etc.  Rusty's done a magnificent job – I'm very happy how it's turned out, and I hope you enjoy it, too.