SONGS FOR POSITIVE CHANGE – a benefit for the Heather Heyer Foundation.
June 13, 2019 @ 7:00 pm

-

10:00 pm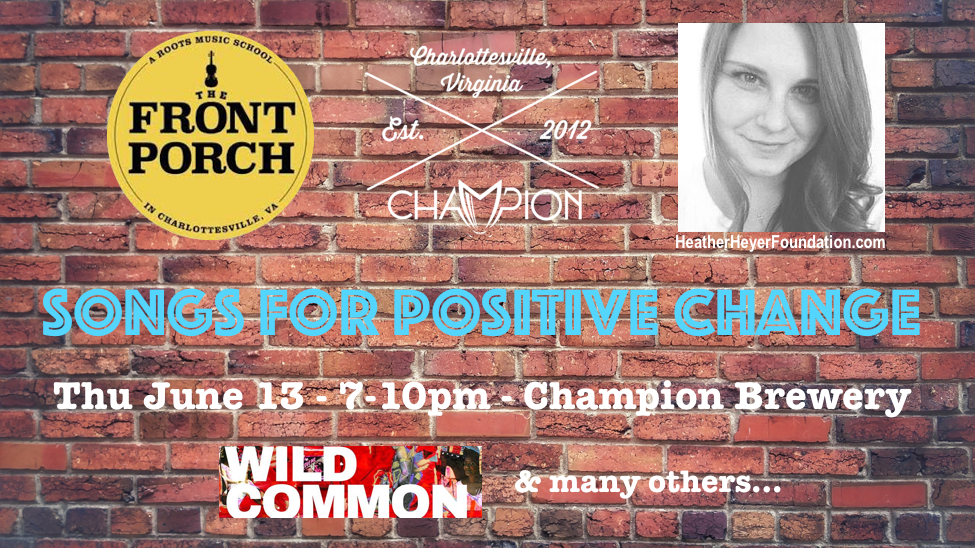 In that past year, my friend Susan Bro (Heather's mom) has been asking me if I would play for an upcoming event should one get planned.  A few ideas came and went, but finally this wonderful celebration started taking shape with the help of our good friends at The Front Porch and the ever-hospitable Champion Brewery.  The sensational, force-of-nature new Cville talent WILD COMMON will headline, following a slew of singer-songwriter friends, including me.  Gonna be fun for a wonderful cause.   Here's the Facebook event decription of the affair:
Songs for Positive Change: A Benefit for The Heather Heyer Foundation
Held at Champion Brewing Company
Doors 6:30 // Show 7:00 PM
$18 advance, $20 door
Featuring Wild Common and local singers and songwriters including: Michael Clem, Traci Eagle, Michael Croan, Keith Morris, Lori Strother and Emily Julia Kresky.
The Heather Heyer Foundation:
The Heather Heyer Foundation was created to honor Heather Heyer, a young civil rights activist, who dedicated her life to promoting equal rights for all people. The Foundation has established a scholarship program to provide financial assistance to individuals passionate about positive social change.
Scholarships will be awarded to those seeking a degree or certification in, but not limited to, law, paralegal studies, social work, social justice, and education, and who intend to promote peaceful social change for unity using those skills in their profession.
The Heather Heyer Foundation is a Virginia not for profit corporation, that is an IRS 501(c)(3) Tax Exempt Organization and gifts and contributions are tax deductible.
Wild Common:
Wild Common is a genre-defying "New Appalachian" band out of Charlottesville, Virginia. The whole is more than the constituent parts, but the constituent parts help understand the whole: Frontwoman Davina Jackson is a soul and gospel singer with a killer voice at the center of the band's music. She used to sing back-up with the Wailers. Fiddle player Nate Leath won the famous Galax Fiddler's Convention when he was 11 and has since grown into one of the most talented fiddlers of this generation. Drummer Rob Hubbard grew up in rural Virginia and went on to become an accomplished reggae drummer. Bassist Dhara Goradia has a long jazz pedigree. Keyboardist Bryan Holmes honed his unparalleled stylings in the hard streets of Raleigh, North Carolina. And songwriter and guitarist Brennan Gilmore has roots in old-time and bluegrass but has played fusion music across the globe. Last but not least, Davina's son Atreyu Jackson picks up the mic to rap with the band.
In the late summer of 2017, all of these musicians from diverse musical backgrounds holed up at a farmhouse outside of Charlottesville to hash out some tunes. And immediately it clicked. They weren't trying to force different genres on top or beside each other but were just taking songs at their essence – a melody and harmonization – and constructing them by playing as their individual traditions and backgrounds formed us to do. The result is refreshingly new, but also strangely familiar.
This event is sponsored by Champion Brewing Company and The Front Porch.