Songwriting Class at The Front Porch (4 weekly sessions) ONLINE
April 5, 2022 @ 7:00 pm

-

8:15 pm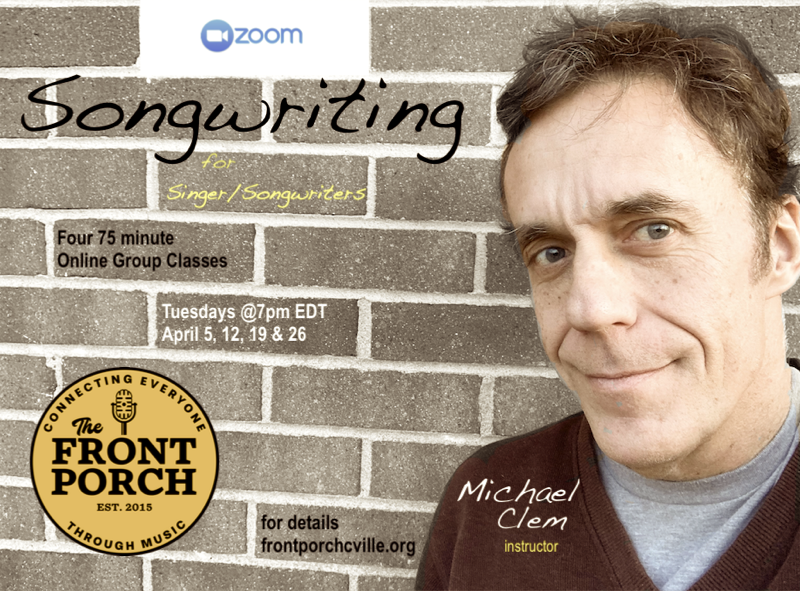 I've taught this month-long songwriting class ten times since Spring 2019. Let's go to ELEVEN!  These classes will be conducted on ZOOM.  You can enroll and attend from ANYwhere!
I love, love, love The Front Porch in Charlottesville and everything they have brought to the community… so I'm thrilled they asked me to do this:  Conducting a Songwriting Class.  This will be another group class over four weeks starting Tuesday April 5 at 7pm (75 min each session).
Here's the description of the course:
How do you write a song?  Where do you get ideas?  What comes first, the lyrics or the melody?  Should a song ever start with a chorus?  Can a song ever end on something other than the root?  How long does writing a song take?  What's a bridge?  Does this guitar make me look fat?  While there aren't pat answers to any of these questions, they are certainly discussed.  We're not going to learn how to write a hit song for someone else to sing — we're going to write a beautiful, personal and meaningful song for YOU to sing (hence, the Singer/Songwriter moniker). Whether you want to make a dime from performing, or it's just a hobby and passion, the singer/songwriter craft is still a fun process to learn.  I have no degree in this field, nor any formal training.  I've just been playing my original songs for audiences for the past thirty years.  That's what I know, and what I've learned along the way, and continue to learn, I'm happy to share with you.